Kat Von D Posts Facebook Manifesto: 'What Can I Say? I Suck'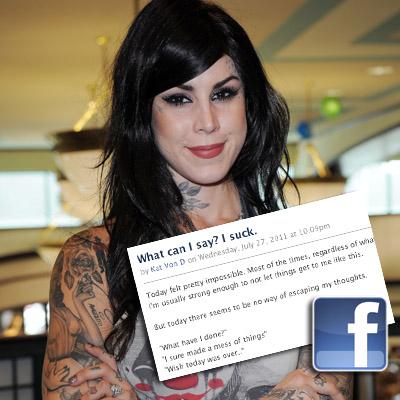 By Adam S. Levy - RadarOnline.com Staff Writer
Kat Von D – fresh off storming off the set of the Los Angeles-based morning show Good Day L.A. on Wednesday – vented later that night on Facebook in a entry she titled, What Can I Say? I Suck.
Von D, whose real name is Katherine von Drachenberg, expressed her frustrations in the long -- and sometimes self-deprecating -- manifesto she posted to her Facebook page late Wednesday, in which she discussed both the breakup and the unexpected departure.
Article continues below advertisement
Von D wrote that she didn't care taking heat when she hooked up with James, whose own image was sullied after his serial-cheating on ex Sandra Bullock emerged as one of 2010's biggest scandals.
"In my relationship I never before felt as solid and strong- even though the world said different by all the criticism," she wrote. "Lost a lot of friends, and even caused turmoil within some of my family members because of the bulls**t the media put out there.
"Some fans even changed their perception of who they thought I was...
Von D wrote she "never planned on walking away from this relationship, let alone the timing of things.
"Most of the time I'm good at rolling with the punches when things don't go 'as planned.' But somehow, I allowed today to get the best of me. As much as I'd like to picture me being this strong, independent woman, the truth is most of the time I'm not as strong as I'd like to be - but I'm still trying."
Article continues below advertisement
As for her walkout just prior to her appearance on Good Day L.A.? It happened right after the show played a clip from L.A. Ink in which Kat gets a tattoo of Jesse's face on her rib cage. Apparently, Von D did not want to talk about Jesse and their recent split.
"I think it was unprofessional on her part," a producer for the show told RadarOnline.com. "I don't know what she expected.
"In the middle of the clip airing, someone told me there was a problem and within 20 seconds Kat was out the door ... she just walked out. She was literally gone in 20 seconds. She didn't even stay to discuss what she was upset about."
Kat's side of the story?
In her Facebook essay, she writes: "Although my intentions were never to offend or hurt anyone's feelings, this isn't an apology for walking out on a silly morning show interview this morning- and this isn't an attempt at justifying anything either."
She then plugged the premiere of the new season of L.A. Ink, but did so with a little reverse psychology, saying that as for ratings, sales, publicity and Twitter followers, "None of those things matters to me."