Exclusive
Jesse James' Ex 'Sad' About His Break-Up With Kat Von D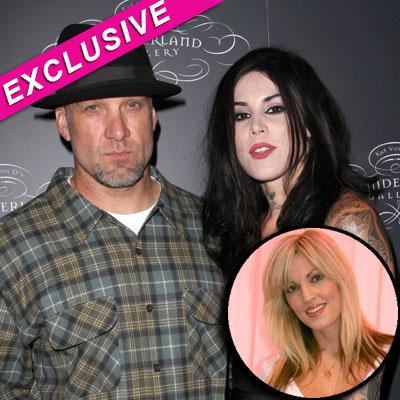 By Cliff Renfrew - RadarOnline.com Reporter
Janine Lindemulder has told RadarOnline.com: "I'm sad that Jesse James and Kat Von D have split-up."
James and his former wife have called a truce in their contentious custody battle over their 7-year-old daughter Sunny James.
And Lindemulder, a former porn star, believes that reality star Von D, just like Sandra Bullock, had tried to be a positive influence in her daughter's life.
Article continues below advertisement
She told us: "I'm sad Jesse and Kat have split because she tried to be a good influence on my daughter and ultimately I'm interested in Sunny's best interests.
"She always spoke well of Kat and told me they played piano together and that Kat would put feathers in her hair too.
"I think that the fact that Jesse and Kat were involved in a long distance relationship eventually took its toll because that is not easy for anyone."
Lindemulder is about to enter an 'in-patient' treatment program in Texas to help her deal with anxiety and depression which is being paid for by James.
In addition, he will also take Sunny to visit her mom, and the couple's custody case will know be moved from Los Angeles to Texas. (The motor bike mogul currently lives just outside of Austin).
Lindemulder added: "I'm really grateful that Jessie is helping me like this, and I want to try and be a more stable person for our daughter.
Article continues below advertisement
"If everything goes well, I intend to re-locate down here permanently. I hope people give me a chance because I know that Sandra Bullock is a real favorite down here.
"We did not plan to all end-up in Sandy's back-yard, but that is just the way things panned-out. I did appreciate what she did for our daughter too."
James and Kat Von D got engaged last January and it was rumored that they would get married this summer before their sudden split.
Kat Von D issued the breakup statement on her Twitter account Monday night saying, "I am no longer with Jesse, and out of respect for him, his family and myself, that's all the info I'd like to share. Thanks for respecting that."
Jesse has yet to say anything on his Twitter account, but Kat also sent a message to his daughter Chandler on the social networking site saying, "kisses to both of you!!!" to which Chandler responded with an emotion of a sad face and broken heart.