Jury In Casey Anthony Trial Reaches Verdict – Radar To Live Lawyers' Press Conference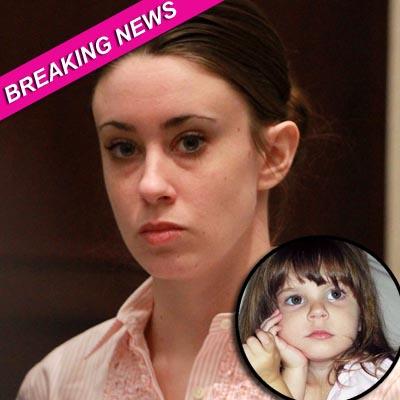 by RadarOnline.com Staff
The jury in the Casey Anthony murder trial in central Florida has reached a verdict, and when it's announced, you'll see it here live.
Court will reconvene at 2:15 ET today, and at that time, the panel will reveal its decision. RadarOnline.com will live stream the verdict as it is being handed down.
Anthony, 25, is charged with first-degree murder, aggravated child abuse, aggravated manslaughter of a child and four counts of lying to law enforcement.
Article continues below advertisement
Evidence Photos Introduced Into Casey Anthony Murder - See The Photos
Since Anthony faces seven counts in all, the 12-member jury deciding her fate has several options: it could find the Orlando, Florida woman guilty on one of more of the counts; it could also find her innocent of all the charges, although that is not likely to happen. Of course, since the jury's verdict must be unanimous, there's always the possibility that the panel could deadlock on some or all of the charges, meaning the trial could result in a hung jury. (The prosecution would then have to decide if it would retry the case on the deadlocked charges).
If Anthony is convicted of the most serious count of first-degree murder, the jury -- consisting of 7 women and 5 men -- will then begin the death penalty phase of the trial, in which they must once again go behind doors and decide judgment.
Graphic Crime Scene Pictures Introduced Into Evidence - See The Photos
During this phase, the jury will again have choices: it can either sentence her to death by lethal injection or give her life in prison.
Article continues below advertisement
The case finally went into the hands of the jury on Monday, July 4, after 33 days of often dramatic testimony and a day and a half of passionate closing arguments.
Casey Anthony Laughs In Court - See The Photos
As RadarOnline.com has previously reported, Anthony is accused of killing her two-year-old daughter Caylee Marie and then disposing of her body during the summer of 2008. Anthony did not report her daughter missing until 33 days later. After a much publicized search that lasted for months, Caylee's body was eventually found in a wooded area not far from the Anthony home in December of 2008.
Throughout the trial, the defense had claimed Caylee accidentally drowned and her mother panicked, and with the help of her father George, hid the body.
Casey Anthony's Secret Wild Life - See The Photos
Casey did not testify in her own defense during her trial – a decision that was said to be hers.
If Casey is found guilty on all or any of the counts, the defense is expected to immediately appeal the verdict,