Exclusive
Judge Denies Casey Anthony Request For Mistrial And Acquittal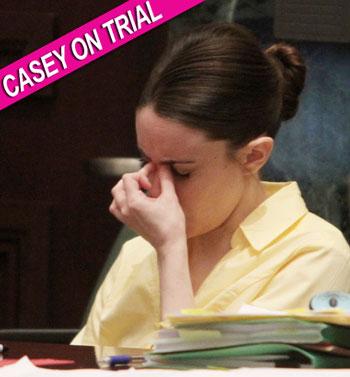 - RadarOnline.com Senior Reporter
The judge in the Casey Anthony trial denied a defense request to grant a mistrial or acquittal in the case against the 25-year-old mother who is accused of killing her 2-year-old daughter, Caylee.
As all of the testimony concluded on Friday, Casey Anthony's defense attorney, Jose Baez, requested a mistrial and then an acquittal. When Judge Belvin Perry turned down the request Casey lowered her head and sat looking down for a few moments.
Article continues below advertisement
Another of Casey's lawyers, Cheney Mason, argued that "there has yet to be any evidence as to how this child died, when she died," which was what the prosecution needed to prove in their case. He also said "the defendant Casey Anthony told many falsehoods for various reasons, but the child is dead."
"The state did not prove their burden of proof," Mason said, claiming that there was "no evidence that the child died from chloroform or poisoning."
"There is no proof to when or how the child died," Mason continued and ask the judge "to enter an acquittal."
Judge Perry then denied the requests and set the closing arguments for Sunday, July 3 at 9am ET.
Casey Anthony may face the death penalty if she is convicted of first-degree murder. The prosecution claims that Casey murdered her daughter Caylee Marie Anthony and lied about her death for months. Her defense maintains that Caylee accidentally drowned in the family pool and George Anthony helped her cover-up the death.