Judge To Lindsay Lohan: Get Psychological Counseling – Or Else!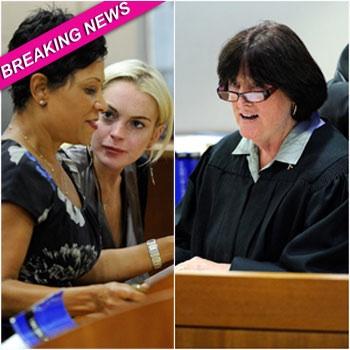 by Radar Staff
Lindsay Lohan was back before a judge in Los Angeles Thursday morning for a previously scheduled progress report related to her probation involving the theft of a necklace from a Venice Beach jewelry store.
In court, a no nonsense Judge Stephanie Sautner noted that while Lindsay is not in violation of her probation, she has only completed four days of her mandatory community service and she warned Lindsay that she must complete the service within the time frame she was given.
Article continues below advertisement
LiLo's attorney Shawn Holley said that Lindsay understands she must complete the community service within a year, and that she cannot use the excuse that she's is shooting a movie to not complete it.
Holley also said she has completed one session in a shoplifting course, but acknowledged that she still has three more sessions to attend.
Holley also noted that Lindsay has paid all of her fines, as mandated as part of the terms of her probation.
Judge Sautner gave Lindsay 21-days to start the psychological counseling which was mandated as part of her probation. Judge Sautner said if Lindsay doesn't provide proof by August 11 that she has started individual counseling, she would revoke her probation.
The judge said Lindsay's team could fax her proof and that they did not have to appear in court in person at that time.
The judge asked Lindsay if she was clear on the requirement for psych counseling to which Lindsay replied: "Yes, your honor."
Article continues below advertisement
One surprising part of the hearing happened when Holley said because Lindsay's SAG insurance has lapsed, she couldn't afford the cost of psychological testing.The judge wasn't swayed by that excuse.
The judge set the next hearing for October 19 and said at that time, she wants Lindsay to have completed her shoplifting courses and she wants to see progress both on Lindsay undergoing pyschogical testing and progress on community service.