Exclusive
Jonah Shacknai's Brother Was At House To Provide Comfort After Son's Death -- Instead He Found More Tragedy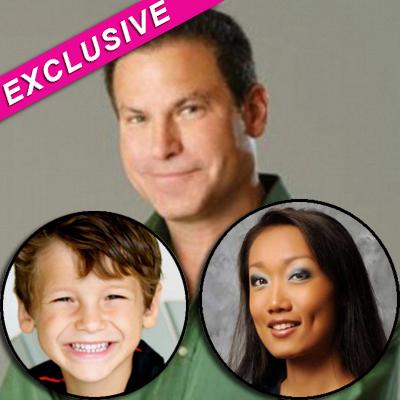 By Jen Heger - RadarOnline.com Legal Editor
Adam Shacknai, the younger brother of pharmaceuticals tycoon Jonah Shacknai, flew to be by his brother's side following a terrible accident that led to the death of Jonah's 6-year-old son, Max.
Adam had hoped to provide comfort for his distraught brother, RadarOnline.com has learned, but instead he discovered yet more tragedy, when just days later, he discovered the dead body of Jonah's girlfriend, Rebecca Zahau, 32, at Jonah's mansion in Coronado, California, a wealthy suburb of San Diego.
Article continues below advertisement
As RadarOnline.com previously reported, Rebecca was found naked, hanging from an outdoor balcony with her feet and ankles bound. Police have called the circumstances of her death "very suspicious," but so far have not ruled if it was suicide or homicide.
Media reports circulated that Adam had been living at his brother's posh estate, but RadarOnline.com has learned that he actually had arrived just days before Rebecca's death.
"Adam arrived after Max's accident," a source close to the situation tells us. "Adam was there to provide comfort to his brother, Jonah. Adam came as soon as he could to be with his brother.
"Max was hospitalized on July 11, and taken off life support on July 17."
Rebecca had been watching Jonah's son on the day the little boy fell down a flight of stairs and sustained fatal brain damage, and the only other person in the house at that time was Rebecca's thirteen year old sister.
Article continues below advertisement
Just two days after Max's horrific fall, Rebecca's lifeless body was discovered by Adam at around 6:30 am.
Adam called 911, but when medics arrived, there was no sign of life, and Rebecca was pronounced dead on the scene.
Sources close to the investigation tell RadarOnline.com that Jonah was at his son's hospital bedside when Rebecca's body was discovered.
Rebecca's time of death hasn't been established yet.
Reports have also circulated that there was a party at the Shacknai compound the day after Max's accident, but our sources emphatically deny that.
"There was absolutely no party whatsoever, period. A neighbor might have heard loud music, but that was the extent of it. No party," the insider reveals.
Meanwhile, Jonah has been interviewed "extensively and exhaustively by law enforcement, about Max's death, and Rebecca's. Jonah has been extremely cooperative with authorities," the source says. Adam was also interviewed by cops about Rebecca's death.