Harrison Ford On Cowboys, Comic-Con -- And Chewy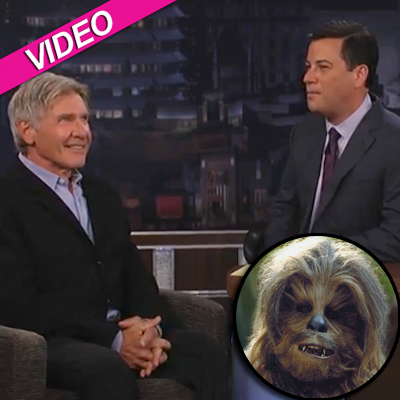 By Adam S. Levy - Radar Staff Writer
From Cowboys & Aliens to Wyoming & Wookies, Jimmy Kimmel left no stone unturned as he welcomed "one of the biggest movies stars ever," Harrison Ford, onto his show Thursday.
Kimmel started off telling Ford he was recently in Jackson, Wyoming, where the Indiana Jones star owns a home, and was thinking of calling him to get together.
Not in the cards, joked the curmudgeonly Ford, who enjoys a private, quiet life in spite of his fame: "I go there to get away from Hollywood ... don't take it personally."
Article continues below advertisement
Kimmel asked Ford if he was annoyed by fans during his appearance at last week's San Diego Comic-Con, which he likened to "Baby Jesus visiting the Vatican."
Ford said, "Those are the people that we work for ... those are the people that support my luxurious lifestyle ... and I'm very grateful for their kind attention and their patronage.
"I'm delighted to be there. I'm there to work, and the fans don't bother me at all ... I like it."
In the appearance, Ford performed in a funny bit in which he had a run-in with a famous ex-co-worker: Chewbacca.
"What are you doing here you song of a b*tch! You think you can walk in here and say you're sorry after what you did?" Ford yelled at his Millennium Falcon co-pilot. "I'm done with that Star Wars crap, and I'm done with you!
"Haven't you heard? I'm in Cowboys & Aliens. Daniel Craig's my Wookie b*tch now! Get the hell out of here and don't come back!"
Watch the video on RadarOnline.com
So why was Ford so furious with the big hairy creature that helped make him a household name?
"She was my wife!" Ford yelled at Chewy. "She's still spitting up hairballs!"
Cowboys & Aliens opens in theaters Friday.