Group Hacks Paper's Website, Posts Fake Story That Murdoch Is Dead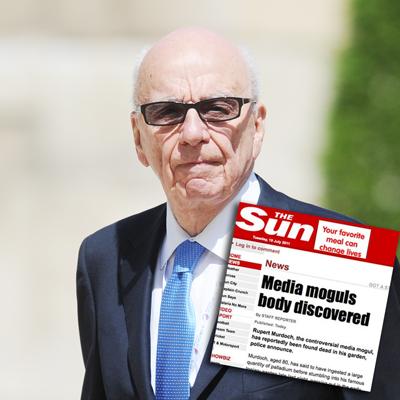 by RadarOnline.com Staff
On the same day that media mogul Rupert Murdoch faces the British Parliament to answer questions about alleged criminal activity by his now defunct paper News of the World, a group hacked into the website of The Sun, the UK's best-selling daily paper, and posted a false story that Murdoch was dead.
The infamous hacker group, LulzSec, was behind the fake story which said that Murdoch's body was found in his garden.
Article continues below advertisement
LulzSec later posted this ominous message on its Twitter account: "This is only the beginning. F*** you Murdoch. You are next," and "Arrest us. We dare you. We are the unstoppable hacking generation...."
The group gets its name from the word "Lulz" -- which is Internet speak for "laughs" -- and "Sec" – which is short for "security."
The group first made its name known in May when it hacked into the website of the Public Broadcasting System and posted a bogus story claiming that dead rapper Tupac Shakur was actually alive in New Zealand.