Drunken Amy Winehouse Fans Cause Bedlam Outside Her North London Home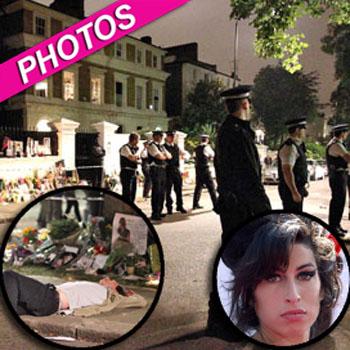 Legions of Amy Winehouse's fans took to the streets outside the late star's north London home Tuesday night, singing and dancing in drunken revelry to celebrate the life of the Rehab singer, who was found dead at 27 Saturday morning in the bed of her north London home.
"A few neighbors rang and we were called to reports of disturbances at 10:30 pm," Metropolitan Police officials told the Daily Mail. "One man was arrested for a breach of the peace and some were moved on."
Article continues below advertisement
The scene outside Winehouse's home was littered with empty beer cans and bottles to go with the pictures and flowers fans had previously left there. In one photo, we see a man passed out on the street.
Winehouse's funeral was held Tuesday, followed by a cremation service. In his eulogy, her father Mitch said he's planning on opening a foundation "to help those struggling with substance abuse" in honoring his late daughter's memory.
Winehouse's autopsy was conducted Monday afternoon, and toxicology results will be available in 2-to-4 weeks. Police called her death "unexplained," adding that speculation about a drug overdose is "inappropriate" in light of the fact that no drugs were found at her house upon inspection.
RELATED STORIES:
Amy Winehouse -- Before The Triumph, Before The Tragedy