Casey Anthony Sentenced To Four Years In Prison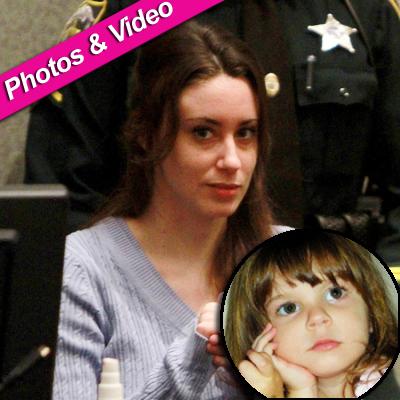 By Neil Woulfe - RadarOnline.com News Director
& Adam S. Levy - RadarOnline.com Staff Writer
UPDATE: Court officials just announced that Casey's calculated release date from jail is July 13.
Casey Anthony may get a summer vacation after all.
Anthony was sentenced Thursday to the maximum of four years in prison and $4,000 in fines following her conviction on four misdemeanor counts of providing false information to police -- but despite that sentence, America's most notorious mom could walk free in only a matter of weeks.
Article continues below advertisement
"I will sentence you to one year in the Orange County prison," Judge Belvin Perry said, "with all four counts to run consecutive to each other given your credit for your time previously served."
The judge noted that Anthony would receive credit for time served (nearly three years), as well as sentence reductions for good behavior while in custody; he added he'd need an hour or so to determine just how much time that would be.
Anthony will likely be out in late July or early August, as her good behavior while in jail should drastically reduce the amount of time she spends in custody from here on.
Here's how it all went down:
Anthony entered the courtroom at 8:53 am ET, looking more casual than usual with her long dark hair down. Clad in a light blue top with a V-neckline, Anthony began with a noticeable air of relaxed confidence Thursday, at times, playing with her hair or holding her hand up to her mouth.
Article continues below advertisement
Judge Perry entered the courtroom a few minutes past 9 am ET, and declared that "the defendant, Casey Marie Anthony, is before the court for sentencing on counts four, five, six and seven."
After clarifying a few concerns regarding court costs, the defense team filed a "double jeopardy" motion, asking the judge to sentence Anthony for only one count of lying to police because all of the lies were told on the same day, July 16, 2008.
The prosecution countered that Anthony's lies came during different times during the course of 12 hours on July 16, and were "intended to mislead law enforcement … which resulted in a wild goose chase."
Judge Perry asked the state if it had to take different actions because of each lie. He then asked if Anthony wanted to address the court, and the defense replied: "No, your honor."
Judge Perry then went through the "distinct separate lies" Anthony told causing police to waste precious resources, including: that she worked at University Studios; that she'd left Caylee at a babysitter's home by the name of "Zanny;" and that she spoke by phone with Caylee in mid-July.
Article continues below advertisement
Watch the video on RadarOnline.com
Anthony's confident demeanor changed and she seemed to become rattled when Judge Perry began discussing her lies and how they impacted the case and distracted authorities.
Judge Perry then sentenced Anthony, adding it would take about an hour to determine how much credit she will get, before ordering Anthony back to jail.
Following the sentence, the judge asked a blank-faced Anthony if she wished to appeal; her lawyer Jose Baez asked for, and received, a 30-day extension to make her decision. The judge also said he would retain jurisdiction over the case for sixty days to determine the cost of prosecution – meaning Casey could be held responsible for money spent by authorities to investigate Caylee's disappearance.
Casey's parents, George and Cindy Anthony, were also in the courtroom for the sentencing. They slipped in the back of the courtroom around 8:50 am ET, and did not talk to reporters prior to the hearing.
Outside the courthouse, prior to sentencing, dozens of people demonstrated in protest of Casey's acquittal; one held a sign that read: "Somewhere a village is missing 12 idiots," referring to the jury and their controversial decision to let Anthony walk on the murder charge.
Article continues below advertisement
One angry protester said: "I blame the jury for Casey being set free. She's guilty of neglect. She's guilty of child abuse."
As word spread among the crowd that Casey could go free in a matter of weeks, the protestors grew angier.
As we previously reported, the stunning verdict was delivered Tuesday when the jury of 12 found Anthony not guilty, of first degree murder, aggravated manslaughter and aggravated child abuse, and instead found her guilty only of the four misdemeanor counts.