Casey Anthony Lets Her Hair Down For Sentencing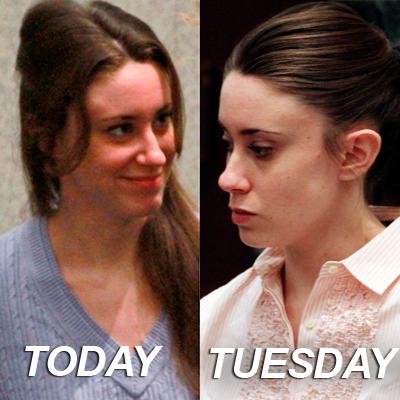 by Radar Staff
She didn't exactly have the courtroom couture of Lindsay Lohan, but Casey Anthony looked noticeably differently during her sentencing Thursday in Orlando, Florida.
For the first time, Casey wore her long dark hair down, and not in a ponytail or bun. She also wore a light blue V-neck sweater. During the trial, the defense specifically choose the conservative outfits she wore each day, no doubt, to create a more favorable impression with the jury, especially in light of the fact that Casey was photographed partying while her 2-year-old daughter Caylee was missing.
Article continues below advertisement
Besides sporting a more casual look in court Thursday, Casey also smiled and played with her hair when she first entered the courtroom. It was a sharp contrast to her often stone-faced look during the trial. Her demeanor did change, however, as it became evidence the judge was giving her the maximum sentence.
As RadarOnline.com previously reported, Anthony, 25, was sentenced Thursday to four years in prison and fined $4,000, but the judge said with credit for time served and for good behavior while in jail, she could go free in only a matter of weeks.