Amy Winehouse's Last Boyfriend Reg Traviss: 'The Last 3 Days Have Been Hell'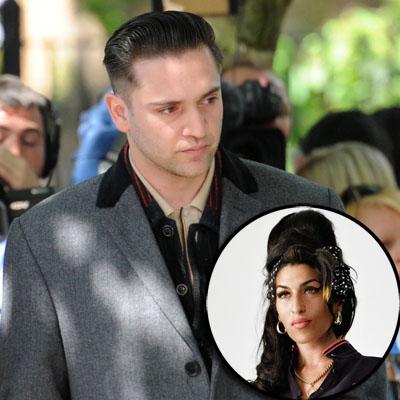 As Amy Winehouse is laid to rest Tuesday at a private ceremony for family and friends, among those in attendance will be her last boyfriend, movie director Reg Traviss, who candidly spoke out about his pain Monday, admitting "the last three days have been hell."
Traviss, 35, opened up about his raw pain in an interview with The Sun, telling the paper, "I can't describe what I am going through and I want to thank so much all of the people who have paid their respects and who are mourning the loss of Amy, such a beautiful, brilliant person and my dear love.
Article continues below advertisement
"I have lost my darling who I loved very much," said Traviss, who's directed such films as Screwed, Joy Division and Psychosis.
While some reports painted Winehouse's final hours as being spent in a drug-induced stupor, Traviss said she'd "been full of life and so upbeat recently, exercising everyday and doing yoga.
"This terrible thing that happened is like an accident."
Traviss, who dated Winehouse the last 18 months, added she was "really looking forward" to attend a pal's wedding Sunday.
"Amy kept trying to decide what to wear," he told the paper. "She had laid out her dresses to make up her mind. She was really looking forward to it."
An insider close to the situation praised the movie-maker for providing a positive influence on the singer in their time together.
"Reg has been dignified throughout his relationship with Amy. The family love him dearly. He's a good guy," the insider said. "What happened in their life together remained private because he was determined to help get her back on her feet properly. He wasn't interested in the limelight -- unlike a lot of her exes.
Article continues below advertisement
"When Reg was around, Amy was a different girl; he was a calming influence and kept her away from trouble ... he really cared for her."
The problem, according to the insider, was that when Traviss "was away working, the parasites always crept back in and dragged her into the gutter."
The Rehab singer was found dead at her London home Saturday afternoon at 27, marking the end of her long battle with drugs and alcohol. She'd entered rehabilitation facilities on multiple occasions to battle her demons, as recently as this past May.