Exclusive
Wiz Khalifa Snubbed At Designer Store After He Spends Thousands On Girlfriend Amber Rose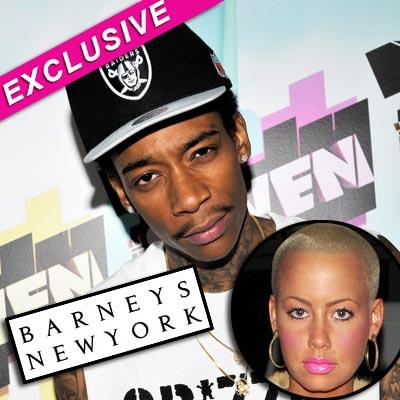 Rapper Wiz Khalifa had a 'Pretty Woman moment' when he visited a swanky Beverly Hills department store with his model girlfriend Amber Rose.
RadarOnline.com has learned that the pair recently visited celeb haunt Barneys New York with both of their families ready to drop some serious cash on new designer clothes.
But although the Black and Yellow rapper shelled-out some $16k on women's shoes for his controversial girlfriend and their families, the rapper was not treated like a VIP.
Article continues below advertisement
An onlooker told RadarOnline.com: " After his spending spree on the shoes Wiz went up to the ultra expensive men's department floor, but instead of rolling out the red carpet for him they refused to help the poor guy!
"Not only did they fail to recognize him they actually thought that that he was a thief and treated him like one!
"It was only when somebody pointed out to them who the guy actually was that they back-tracked somewhat."
In 1990 mega-hit Pretty Woman, Julia Roberts' hooker character Vivian Ward is famously snubbed after she visits an upscale Beverly Hills boutique until her millionaire boyfriend Richard Gere (Edwards Lewis) sets them straight on how much money he is about to spend on her.
It's understood that after his re-buff Wiz re-united with his shaven-headed girlfriend Rose and their families before promptly exiting the swanky store.