Exclusive
Weiner Pressed To Resign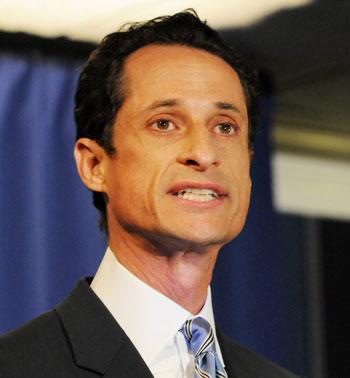 RadarOnline.com Staff Reporter
As the backlash grows in Weinergate, members of Rep. Anthony Weiner's own party are demanding that he step down from his congressional seat.
Pressure is building for Weiner to resign, and the majority of the calls are from his fellow Democrats.
"In light of Anthony Weiner's offensive behavior online, he should resign," Representative Allyson Schwartz (D-PA) said in a statement to
RadarOnline.com regarding the representative from New York.
Article continues below advertisement
"Having the respect of your constituents is fundamental for a Member of Congress," Schwartz said. She handles recruitment and member services
for the Democratic Congressional Campaign Committee.
Arkansas Senator, Democrat Mark Pryor told reporters he thinks it would be a "good thing" if Weiner resigned. "Ahh... It would be fine with me
if he did. I mean, ultimately that's up to him and his constituents and his family, but, um... I think at this point it would probably be a good thing if he would go ahead and resign."
Weiner confessed to sending a lewd picture to a woman via Twitter and having "inappropriate" relationships with at least six women in a tearful press conference Monday.
He admitted he lied and tried to cover-up his dalliances but has said that he did not use government property for the communications.
However, RadarOnline.com exclusively reported that he spoke with Lisa Weiss, the 40-year-old Vegas blackjack dealer, on March 3, 2010, while he was in Washington, DC from his Congressional office.
Article continues below advertisement
Minority Leader Nancy Pelosi called for the Ethics Committee to investigate Weiner after his admission of guilt on Monday.
"I am deeply disappointed and saddened about this situation; for Anthony's wife, Huma, his family, his staff and his constituents," Pelosi said in a statement. "I am calling for an Ethics Committee investigation to determine whether any official resources were used or any other violation of House rules occurred."