VIDEO: The Voice's Emily Valentine On Kiss With Curtis -- 'We Choreographed It All Night Long!'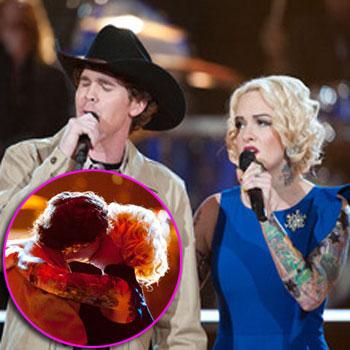 A kiss is just a kiss — unless you've been practicing all night long!
The Voice's battle round ended with a bang Tuesday night when competitors Emily Valentine and Curtis Grimes locked lips at the end of their Need You Now duet and RadarOnline.com has learned it wasn't just for the cameras.
"We choreographed it ALL night long!" ousted contestant Valentine told RadarOnline.com Wednesday morning.
Article continues below advertisement
"We both had feelings for each other, so it just kind of worked."
Much was made about the odd coupling of country crooner Grimes and 23-year-old rocker Valentine, as the two gushed about each other before the show, but no one expected their battle to end with a burning kiss.
But now that Valentine is no longer competing on the hit NBC show, will she and Grimes continue what they started?
"I don't know to be honest. Curtis is an amazing guy...and we do talk on a daily basis," Valentine said.