VIDEO: Cameron Diaz: 'Weed Is Awesome!'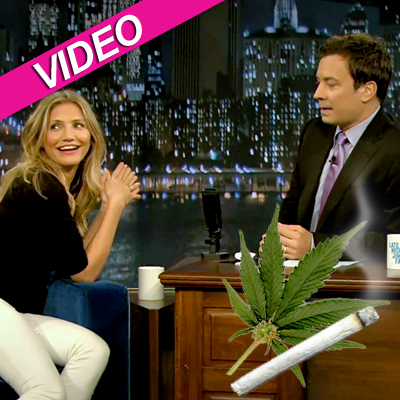 by RadarOnline.com Staff
Bob Marley would have been proud.
Actress Cameron Diaz, promoting her new film Bad Teacher on Tuesday's Late Night with Jimmy Fallon, had this message to share with America: "Weed is Awesome!"
Diaz, 38, was telling Fallon about her racy character in the film, a wayward junior high teacher named Elizabeth Halsey.
According to Diaz, Elizabeth is obsessed with getting a boob job, drinks on the job and encourages another teacher to get high.
Article continues below advertisement
"I'm like, 'Hold it in, hold it in!' ... Weed is awesome! ... that was what my character says, that's not what I say," Diaz joked.
"Nice save there," Fallon said.
"I think this weed -- this movie -- Freudian slip!" Diaz said.
Watch the video on RadarOnline.com
Bad Teacher co-star Justin Timberlake recently admitted that he has smoked a doobie. Timberlake last week told Playboy he "absolutely" smokes marijuana as "some people are just better high."