REPORT: Tracy Morgan: I'd Kill My Son If He Were Gay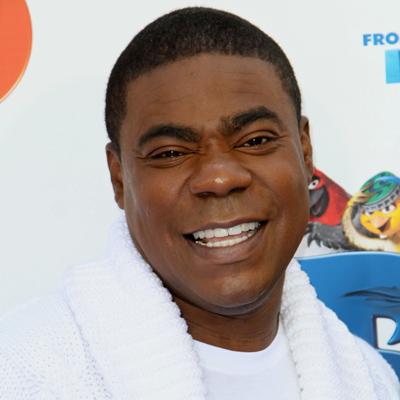 30 Rock star Tracy Morgan is being accused of launching into an ugly homophobic rant during a recent stand-up routine.
Stories are circulating on the internet that during a performance at Ryman Auditorium in Nashville, Tennessee last Friday, Morgan allegedly said that homosexuality was 'bullsh*t' and said that if his son said that he was gay he would "pull out a knife and stab that little n*gger to death."
Article continues below advertisement
Kevin Rogers -- who says he was in the audience with his partner and a friend -- wrote about the incident on Facebook, insisting: 'The sad thing is that none of this rant was a joke. His entire demeanor changed during that portion of the night. He was truly filled with some hate towards us."
In his post, Rogers says he has been a fan of Morgan since his days at Saturday Night Live, and says he "figured at some point the gay jokes would fly and I'm well prepared for a good ribbing of straight gay humor. I have very thick skin when it comes to humor; I can dish and I can take."
Rogers then goes into explicit detail about Morgan's alleged tirade.
He writes: "I can't take is when Mr. Morgan took it upon himself to mention about how he feels all this gay sh*t was crazy and that women are a gift from God and that "Born this Way" is bullsh*t, gay is a choice, and the reason he knows this is exactly because "God don't make no mistakes" (referring to God not making someone gay cause that would be a mistake).
Article continues below advertisement
MEL AUDIO TAPE #1: Mel's Racist Rant
"He said that there is no way a woman could love and have sexual desire for another woman, that's just a woman pretending because she hates a f*cking man.
"He took time to visit the bullsh*t of this bullying stuff and informed us that the gays needed to quit being p*ssies and not be whining about something as insignificant as bullying. He mentioned that gay was something kids learn from the media and programming, and that bullied kids should just bust some ass and beat those other little f*ckers that bully them, not whine about it.
"He said if his son that was gay he better come home and talk to him like a man and not he mimicked a gay, high pitched voice or he would pull out a knife and stab that little N (one word I refuse to use) to death.
"He mentioned that Barack Obama needed to man up and quit being all down with this just because he has a wife and two daughters."
Rogers also says that Morgan's rant was met with applause and cheers of "You go Tracy" from many people in the audience, although he says, about a dozen people walked out of the show.
Article continues below advertisement
Rogers ended his Facebook entry by stating: "I'm not angry... just very very very disappointed."
So far, Morgan himself has not publicly commented on the controversy, but Morgan's rep issued a statement to gay rights web site Unicorn Booty saying: "There is no comment. Thank you."
This is not the first time Morgan has been accused of making anti-gay comments. During a performance at New York's famed Carnegie Hall in 2009, Morgan said that homosexuality was a choice; several audience members walked out in protest.
Morgan is due to perform next at Connecticut's Foxwood's MGM Grand Theater on July 2.
RadarOnline.com contacted the venue where Morgan performed last Friday and asked for comment. A spokesperson said: "The Ryman Auditorium regrets that people were offended by statements made by Tracy Morgan during his June 3 appearance. The Ryman does not control the content presented by people appearing on its stage, nor does it endorse any of the views of, or statements made by, such persons."