Exclusive
Tracy Morgan Should Meet With Families Who Lost Kids To Anti-Gay Violence Says GLAAD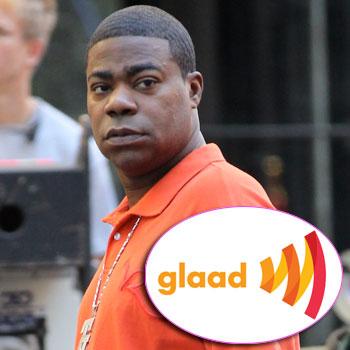 Tracy Morgan apologized Friday for his "not funny" anti-gay rant at a comedy show but a prominent gay rights organization has said they expect him to do more.
GLAAD: The Gay & Lesbian Alliance Against Defamation President Jarrett Barrios said "Tracy Morgan must not only apologize, but assure us that this won't happen again and send a clear message to Americans that anti-gay violence is no joke."
Article continues below advertisement
The organization reached out to the 30 Rock actor and his representatives and offered to arrange a meeting "between Morgan and family members who have lost children to anti-gay violence in order to help him understand exactly why his rant touched so deep a nerve."
Barrios said, "If Tracy Morgan is sincere, he should take us up on meeting these families who have lost loved ones to the type of violence that he is mocking. Perhaps by hearing their stories, he will learn that while we all love humor, this is no laughing matter."
As RadarOnline.com previously reported, Morgan launched into an ugly homophobic rant during his stand-up routine at Ryman Auditorium in Nashville, Tennessee last Friday, when he allegedly said that homosexuality was "bulls**t," and that if his son told him he was gay, he'd "pull out a knife and stab that little n**ger to death."
He subsequently released a statement apologizing: "I want to apologize to my fans and the gay & lesbian community for my choice of words at my recent stand-up act in Nashville. I'm not a hateful person and don't condone any kind of violence against others.