Exclusive
Teresa Giudice's Family Feud Still Raging -- Admits: "It Just Breaks My Heart'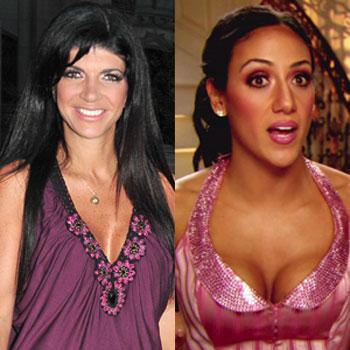 Heartbroken Teresa Giudice has lifted the lid on her ongoing feud with her brother and his wife and admitted it's tearing the family apart.
RadarOnline.com can reveal that the Real Housewives Of New Jersey star is no closer to reconciling with her sibling, Joe, and her sister-in-law, Melissa Gorga, and that the bitterness is just growing with each passing day.
"Everyone keeps asking me where things stand with me and Joey right now," she said in an interview with Celebuzz.com. "I'd love to say everything is better, but it seems like every day, there's something new tearing us apart."
Article continues below advertisement
Tensions have been mounting since Melissa and Joe landed a permanent spot on the show this season.
But Teresa admits, while she wishes she could patch things up with them, she doesn't know how.
"I really thought we were going to fix it all, I miss him so much. But then I saw how upset it made Melissa that we were reconciling.
"I love my brother and would do anything to have him in my life full-time again. We were so close growing up, and the more time that passes like this, it just breaks my heart. And it is tearing my parents up. We're their only kids.
"But I am at a loss when it comes to Melissa. Clearly we can't be a family if she doesn't want us to be, and I've tried everything I can think of to love her, accept her, forgive her, apologize to her… what am I missing?"
Teresa claims she is confused over Melissa's mixed messages and that with every apology, comes a bitter attack.
So the reality star is now reaching out to her fans to give her advice.