PHOTO: Charlie Sheen's Ex Brooke Mueller -- Keeping It Real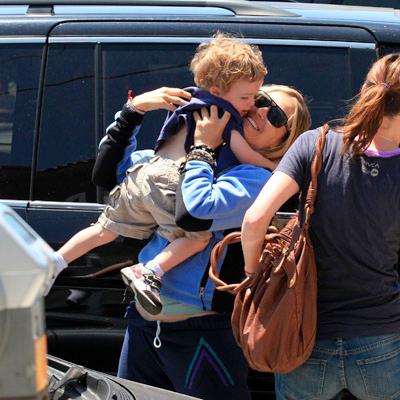 Charlie Sheen's troubled ex-wife Brooke Mueller lovingly hugs one of her 2-year-old twin boys Tuesday in Los Angeles, a day before a new reality TV show, which prominantly features her, premieres on Oxygen.
Brooke -- who's fought a very public battle with addiction -- will be featured on Paris Hilton's new reality show, The World According To Paris.
On the show, viewers will get an inside look at Brooke's struggles to stay sober.
Article continues below advertisement
A source close to the situation tells us: "Brooke's battle with her addiction is going play out. Brooke did have a relapse while filming. Paris only wants the best for Brooke and hopes that she is now able to stay clean."
Mueller is still enrolled in outpatient rehab program, and she spends her days in group therapy, and individual counseling, the insider tells us.
"Brooke lives at home in Los Feliz with the boys. She spends her evenings at home with them.
PHOTOS & VIDEO: Charlie Sheen Arrives To Court With One Of His 'Goddesses'
Bob and Max are in very good hands during the day with Brooke's mom or her aunt or uncle. There is a nanny that also helps out. It's one day at a time for Brooke, she has battled this addiction for a very, very long time."
Mueller and Sheen's divorce became official May 2, six months after they filed papers; the couple married on May 30, 2008.