Paris Hilton Not Happy With Barbara Walters Grilling On The View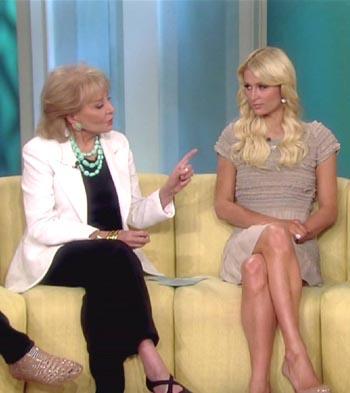 by RadarOnline.com Staff
All the oxygen was sucked out of the studio Wednesday when Barbara Walters grilled Paris Hilton during an interview on The View.
The reality star and her mother, Kathy Hilton, were on the ABC chat show to promote her show series, The World According to Paris.
But neither Walters or her co-host Whoopi Goldberg thought Paris came across well in the premiere episode.
Walters, in particular, took Paris to task for only being shown shopping, clubbing, drinking, and complaining about doing her court-ordered community service. The newswoman even reminded Paris that in the past she'd talked about wanting to help women prisoners and engage in extensive charity work -- none of which was seen on the first episode of her new show.
Article continues below advertisement
"Why not present that side of yourself, if indeed it exists," Walters challenged Paris. Ouch!
After the segment, Paris and her father Rick, who'd been backstage, railed at producers for the tone of the interview, The New York Post. A rep for The View confirmed the verbal altercation.
The premiere episode of The World According to Paris didn't set the world on fire. Only 400,000 viewers tuned into the Oxygen network to watch it.