Paris Hilton Testifies Against Suspected Burglar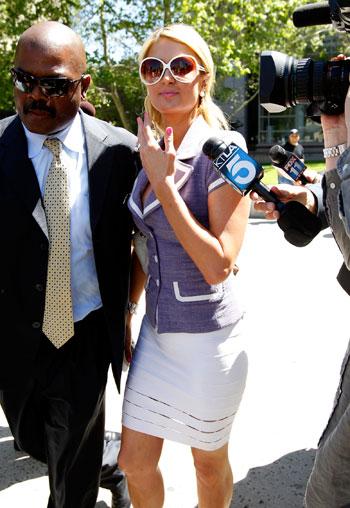 Paris Hilton took the stand Wednesday, but this time she wasn't the one on trial.
Dressed in a purple short-sleeved jacket and a white skirt, Paris testified in a Van Nuys, Ca. courtroom about the scary night Nathan Parada allegedly tried to break into her home last October.
"I'm a deep sleeper and Cy woke me up after he heard noises," Paris said. "We got up, and saw someone looking through the window, smiling at us....My boyfriend grabbed his gun, and he went outside and held him until the cops arrived."
Article continues below advertisement
Paris' boyfriend, Cy Waits, also testified that he was awakened by "loud noises downstairs. I opened the door, and went outside, and saw the gentleman, when he turned around to face me he had two knives and I drew my weapon on him. He asked me if it was a real weapon because its a small pistol, and I said 'f**k ya its a weapon. Drop the f***king knives. He then laid down on the ground and I kicked the knives away from him. He had a strange look on his face when we were waiting for the cops to arrive," Waits testified.
If convicted of the felony burglary charge Parada could be sentenced up to six years in state prison.
Prior to entering court, Paris' boyfriend Cy was attacked by a man who was previously arrested for stalking Ms. Hilton.
RELATED STORIES: