Other Victim In Jackass Car Crash Was Newly Married Iraqi War Vet Who Served In The Navy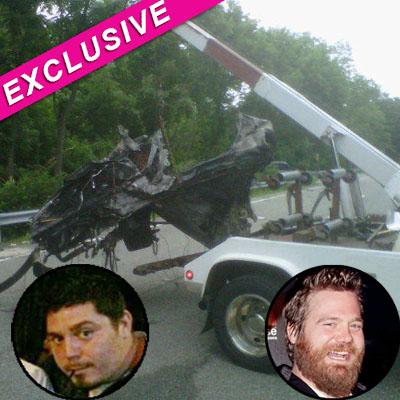 RadarOnline.com Staff Reporter
Zachary Hartwell the 30-year-old passenger killed in Jackass sar Ryan Dunn's sports car, was a former Navy Gunner's Mate who had been on two tours of Iraq, RadarOnline.com has learned.
Tragically, the two friends had been out celebrating clinching a new deal together before Dunn's powerful Porsche crashed while he was giving Hartwell a ride home.
Both men were killed instantly when the car went off the road and burst into flames around 2:30 am Monday on Route 322 and New Street in West Goshen Township, Pennsylvania.
Article continues below advertisement
A source close to Zachary's family told RadarOnline.com Online.com: "It is a complete tragedy Zachary was one of the best. He only got married to his wife Rachel last October.
"She is absolutely devastated, nobody knows why Ryan was driving so fast, they were out celebrating winning some kind of deal together.
"That is them and another friend toasting one another in the last Twitter photograph. We do not think they were drunk or anything like that. Zachary was not a big drinker at all.
"Ryan's girlfriend Angie was a bridesmaid at Zachary and Rachel's wedding; now they are both widows, it is too sad for words.
"The family is angry that the accident happened and they want to find-out exactly what went wrong.
DOCUMENT: Read The Police Press Release
"Zachary and Rachel went to high school together before they started dating later-on. She is currently working as a waitress while going to college and they did not have any children.
Article continues below advertisement
"At the moment she is being comforted by her family, but this is obviously a terrible time for her after losing her husband in such a horrific accident."
Tuesday morning, the Coroner's Office released that that the other victim was Zachary Hartwell, 30, of West Chester County, Pennsylvania.
Dunn – who appeared in all three of the Jackass movies - tweeted a photo of the three men in at a bar in the Philadelphia area just hours before the crash.