Exclusive
PHOTOS: Octo-Mom Strips Down For A Sexy Shoot In The Surf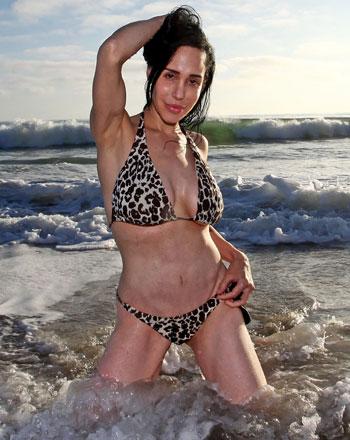 Love her or hate her, you've got to admit, she's got a bangin' body — especially for having given birth FOURTEEN times!
Nadya Suleman, AKA Octo-Mom stripped down to a skimpy leopard print bikini for a sexy photo shoot in the surf recently and showed off her perfectly toned and taut midsection.
Despite admitting to have gained a whopping 138lbs during her pregnancy, Suleman vehemently denies undergoing a tummy tuck or any plastic surgery procedures to get back into shape — insisting it's all down to diet and exercise.
Article continues below advertisement
Suleman, 34, shot to fame (or infamy) when she gave birth to octuplets in January 2009. Controversy was sparked when it was discovered Suleman was an unemployed single mother on public assistance with six other children already at home.
It was later revealed Suleman conceived all of her children via in vitro fertilization.
As RadarOnline.com previously reported Suleman's fertility doctor, Dr. Michael Kamrava has since had his medical license revoked, effective July 1.