Exclusive
Jennifer Garner Manages To Outshine First Lady Michelle Obama At Fundraiser Breakfast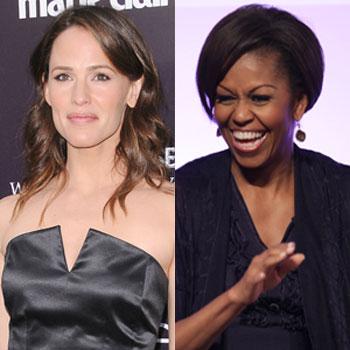 RadarOnline.com Staff Reporter
Michelle Obama always draws an A-list crowd.
But it seems Tuesday morning Hollywood won over Washington — at least when it came to posing for photos!
After the First Lady's Monday night Los Angeles fundraiser that was attended by Ellen DeGeneres, Portia DeRossi, Drew Barrymore and Ryan Phillippe, she had a continued meeting with the stars at a breakfast event in Northern California, attended by Jennifer Garner.
Article continues below advertisement
But despite it being Mrs. Obama's day, a source tells RadarOnline.com that the attending crowd were more interested in snagging pics with another high profile wife – that of movie star, Ben Affleck!
"It was funny, people were literally skirting Michelle Obama to get their photo taken with Jennifer Garner,' the source says. "I guess star power beats out politics when it comes to the photo album!"
Garner, for her part, was ever gracious though, and quick to bring everyone back to the point of the fundraiser, and give props to Mrs. O.
"The First Lady did a great job of putting into context everything her husband has accomplished in the last couple of years," Garner said after the event that was held at the Claremont Hotel Club & Spa in Berkeley, Ca.
Going on to say that Michelle got "the room fired up for the next few years," for her husband President Barack Obama, according to the Oakland Tribune.
The actress was seated at a table with the Mayor of Oakland, Jean Quan, and ticket prices for the breakfast ranged from $1,000 to $25,000. Monday night's fundraiser raised a reported $1 million.