Jury Reaches Verdict In Rod Blagojevich Re-Trial: Guilty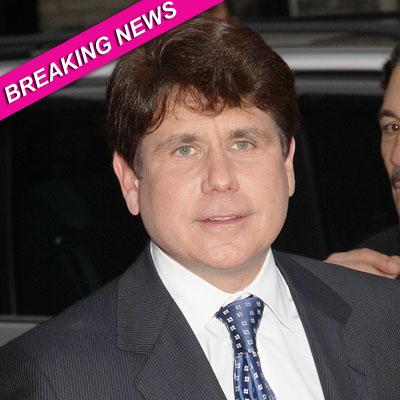 By Neil Woulfe - RadarOnline.com News Director
UPDATE: 12:18 PM PT: Former Governor Rod Blagojevich was found guilty of 17 counts, including corruption. A federal jury convicted him in Chicago.
The jury in the re-trial of disgraced former Illinois Governor turned reality TV star Rod Blagojevich reached a verdict Monday, but at this time, the verdict is being kept under wraps.
However, we will soon know if Blagojevich has been found guilty or innocent -- the jury is expected to announce its verdicts on 18 of 20 public-corruption-related counts between 1pm-2pm CT Monday.
Article continues below advertisement
Blagojevich, 54, is accused, among other things, of trying to sell the U.S. Senate seat that belonged to Barack Obama before he resigned to become president.
Last August, after a two-month trial and 14 days of deliberation, jurors deadlocked on 23 of the 24 charges Blagojevich had faced; prosecutors had the option of retrying him or not – they chose to.
The former governor was found guilty on one count of lying to FBI investigators, a conviction that could carry a prison sentence of five years.
Celebs In The Best, Worst And Wackiest Courtroom Couture
Following his indictment and throughout the trial and re-trial, Blagojevich has adamantly denied the charges.
Since being forced out of office in shame, Blagojevich has kept a high profile, appearing in a Chicago comedy show, releasing a book, and competing on NBC's Celebrity Apprentice; he's also appeared on numerous chat shows including Late Show with David Letterman and The View. In the summer of 2009, his wife Patti appeared on the NBC reality show, I'm A Celebrity…Get Me Out Of Here.