Former Gov. Rod Blagojevich Wants To Cancel Retrial; Asks To Be Sentenced ASAP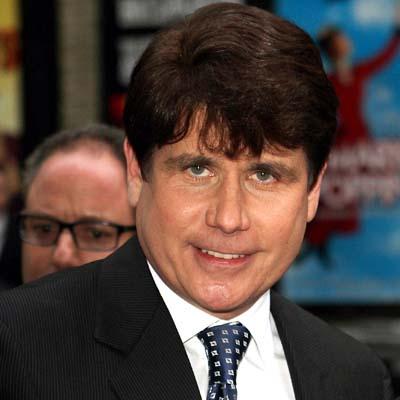 Disgraced former Illinois governor (and yes, Celebrity Apprentice contestant) Rod Blagojevich asked a judge on Wednesday to cancel his retrial and instead sentence him as soon as possible on the one conviction from his first trial, RadarOnline.com has learned.
In explaining his decision, Blagojevich -- who was impeached from office after being charged with corruption -- said that money troubles prevent him from mounting a proper defense in a second trial.
Article continues below advertisement
In a five-page motion filed in U.S. District Court in Chicago, Blagojevich does not admit guilt, including on the conviction of lying to the Federal Bureau of Investigation. (That is the lone count jurors agreed on at his otherwise deadlocked trial last year.)
The motion says the former governor, whose legal bills are supposed to be paid by the government, wants to forgo a retrial on grounds that none of his lawyers have been paid for months of pretrial preparations.
"Should this motion be granted... funds for the second trial would no longer be necessary," the motion reads. An added bonus, it continues, would be "no further cost to taxpayers."
Mr. Blagojevich, 54, faces a maximum five-year prison term for the lying count. It was widely expected that a sentencing date for that conviction would only be set after the retrial was over.
At that trial do-over, currently scheduled to start on April 20, Mr.Blagojevich faces 20 charges, including that he sought to sell or trade an appointment to President Barack Obama's vacated U.S. Senate seat in exchange for a top job or campaign cash.
Article continues below advertisement
Many of the outstanding charges that would be the focus of a second trial, including fraud and attempted extortion, carry a far stiffer maximum sentence -- 20 years in prison.
Wednesday's motion claims defense attorneys have gone almost nine months without pay and that the dearth of available funds undermines their ability to conduct investigations or seek expert opinions. As a result, it says the defense won't be fully prepared to go to trial on April 20.
"The financial hardship...has created a vast inequity," the motion states. "The government continues to have every resource at its disposal. Yet, the defense is stymied in its ability to prepare for trial."
A nearly $3 million fund that Mr. Blagojevich drew on at his first trial to pay his team of about a dozen attorneys ran dry as the initial trial finished. Months later, presiding Judge James Zagel ruled that Mr. Blagojevich would only be allowed to retain two lawyers and a paralegal on the taxpayer's dime.