Prosecutors Ask Judge To Throw Out Three Charges Against Rod Blagojevich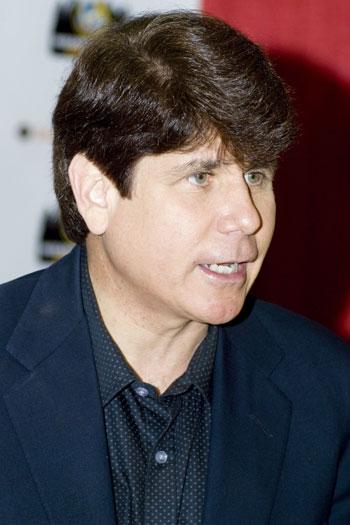 Federal prosecutors in the Rod Blagojevich corruption case asked a judge at an evidentiary hearing on Wednesday to throw out three of the 23 counts against the former governor in an attempt to "streamline the case," RadarOnline.com has learned.
Prosecutors told U.S. District Judge James Zagel the accusations contained in the charges are duplicated in other counts and have requested dismissal of counts one, two and four in the original indictment — racketeering, racketeering conspiracy and wire fraud.
Article continues below advertisement
The move by prosecutors was prompted after jurors in Blagojevich's first trial complained the two dozen charges they were to consider were confusing.
Jurors came to an impasse on the charges against the 54-year-old and convicted him on just one of the 24 counts— lying to the FBI.
VIDEO: Rod Blagojevich Fired Again, This Time On Celebrity Apprentice
While Blagojevich lawyers called the potentially-dropped charges a good thing, they told the Chicago Sun-Times say it doesn't amount to much, however.
"It doesn't change much for us," attorney Sheldon Sorosky said.
NEW VIDEO: Rod Blagojevich Sings Elvis At Chicago Party
"Every wrong is still there, nothing has changed."
Assistant U.S. Attorney Reid Schar said in court that dropping the charges will help "streamline the length of the indictment," as well as jury instructions.
Although it may make things easier for the jury, the ousted Illinois Governor still faces 20 counts at his retrial on April 20 - including that he allegedly tried to sell President Obama's former Senate seat.