Exclusive
Friends Say Sad Farewell To Grease Star Jeff Conaway At Private Memorial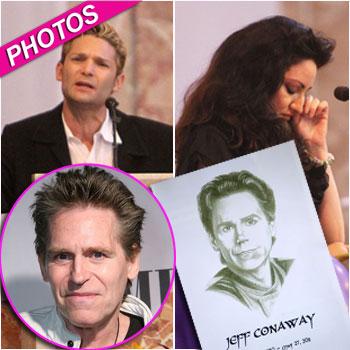 Grease star Jeff Conaway had his final moment in the spotlight on Tuesday when his friends and family hosted a memorial service to say goodbye to the late actor, and RadarOnline.com has exclusive details of the sad event.
The private ceremony, which was held at the Our Lady Of Grace Church in Encino, California, featured original members from the band the Temptations singing a special tribute to their long-time friend and was hosted by his former fiancée, Vikki Lizzi.
Article continues below advertisement
"There wasn't a dry eye in the house," a guest at the memorial told RadarOnline.com, as Lost Boys star Corey Feldman made a moving tribute to his fallen pal in front of the weeping crowd.
There was a personal and moving performance of It's So Hard To Say Goodbye, in Conaway's memory, along with a specially written song titled, I'll Miss You Buddy. Conaway was one of The Temptations' biggest fans and he struck a friendship with the 60s vocal group after they met at an award show."
Guests signed purple balloons, Conaway's favorite color, and released them to go up in the sky in unison, while collages of photographs of Conaway decorated the church, along with a black and white drawing of him with his birth and death dates marked.
Other celebrity guests included Back to the Future star Christopher Lloyd, adult film stars Ron Jeremy and Mary Carey and model/actress Amber Smith.
Conaway -- who played T-Bird Kenickie in Grease, and struggling actor Bobby Wheeler on the television series Taxi -- died May 27 at the age of 60 after a history of illness and drug abuse.