Exclusive
Dennis Hopper's Wife Was Having Affair — Court Papers Allege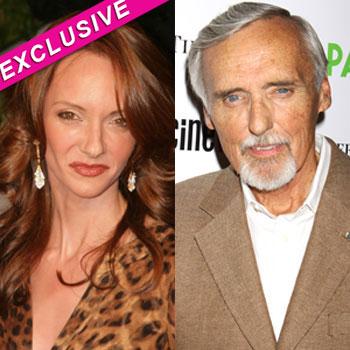 By Jen Heger - RadarOnline.com Legal Editor
Dennis Hopper's wife, Victoria Hopper was having an affair prior to the late actor's death -- at a time when Victoria says that she was "married and residing with Dennis" according to court documents obtained exclusively by RadarOnline.com.
Dennis had filed for divorce from Victoria before he died in May 2010, but the divorce was never finalized. Hopper's daughter, Marin, and the Dennis Hopper Trust are suing Victoria because they claim that she stole artwork that the estate is legally entitled to. Victoria has also filed a lawsuit of her own -- against Marin and the trust. Victoria and Dennis had one child together, a daughter, Galen who is 10 years old.
Article continues below advertisement
The bad blood between both sides is about to get a lot worse though as court documents that were just filed claim Victoria was having an affair with James Cannon Boyce. Lawyers for Marin Hopper have attempted to serve a subpoena to Boyce so that he could be deposed in the ongoing litigation, something Victoria is trying to prevent. The docs state: "Victoria had an affair with Mr. Boyce during the time she claims that she and her hsuband Dennis were happily "married and residing together.' This latter issue bears directly on Victoria's right to inherit Trust property."
Dennis Hopper's daughter Accuses His Wife Of having Affair — See The Documents
Boyce's deposition is being requested because Marin Hopper believes that he could know "where Victoria is keeping the converted art; what pieces of art she has sold; the condition in which the converted art is being kept; Victoria's statements and/or admissions to Mr. Boyce concerning any of the issues in the pending litigation."