Exclusive
EXCLUSIVE: Dennis Hopper Trust Accuses Wife Of Stealing Late Actor's Art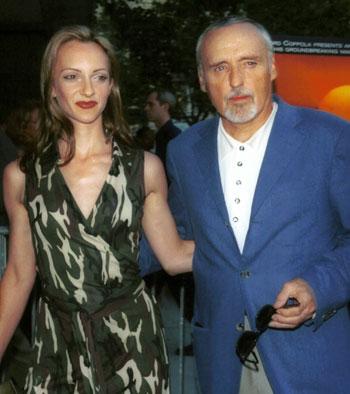 Dennis Hopper's wife Victoria is being sued for allegedly stealing valuable artwork from the actor in his dying days, according to new court papers obtained by RadarOnline.com.
In a file lodged with the LA Superior Court, the screen legend's estate accused Victoria Duffy of surreptitiously removing items from his home.
"On at least two occasions in late 2009, respondent with or without the assistance of other had to access to and entered the decedent's residence, studios, and other real property," the Dennis Hopper Trust told court.
Article continues below advertisement
"Wrongfully and in bad faith, (she) removed certain pieces of art, and other personal property, the extent of which is not yet known."
In an affidavit filed before his death, Hopper had claimed that Duffy "literally stole from me" and "refused to tell... where the property was when I (Hopper) asked her, and then left town."
At the time, Hopper estimated the missing art, including a portrait of himself by Andy Warhol and sculptures by Robert Graham and Banksy, were worth more than $1.5 million.
Hopper died earlier this year, and at the time of his death, he was involved in bitter divorce proceedings from Victoria.
Hopper's Trust wants a Los Angeles judge to determine title and require transfer of personal property back to the Co-Trustees.
A pre-nup submitted to the court reveals Duffy agreed "the terms of the premarital agreement also provide that any assets purchases or acquired by the Decedent during the marriage are his separate property."
Article continues below advertisement
"The Decedent funded his Trust with separate property assets, including those pieces of art and other personal property that has been misappropriated by Respondent as set forth herein."
DOCUMENTS: Dennis Hopper's Wife Claims History Of Abuse And Drug Taking By Star
A hearing is set for December 22, 2010.
RELATED STORIES:
Dennis Hopper To Be Laid To Rest Wednesday At The Birthplace Of Easy Rider