EXCLUSIVE: Dennis Hopper's Wife Wins Bid To Block Art Sale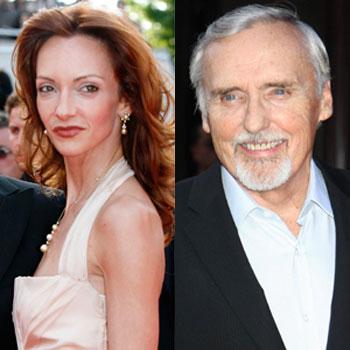 Dennis Hopper's estranged wife, Victoria Duffy Hopper, had a major court victory when she was granted a preliminary injunction to stop the sale of five art pieces by Christie's auction house and The Dennis Hopper Trust, RadarOnline.com has learned.
READ THE COURT DOCUMENTS:
The Los Angeles Superior Court found in favor of Victoria on February 18th stating, "Marin Hopper, Wayne Mejia, and Alex Hitz as Co-Trustees of the Dennis Hopper Trust shall immediately preserve, segregate, protect, and are enjoined from selling or transferring the following items of property."
Article continues below advertisement
The five pieces listed were:
* Pixie Guerin and George Herms "Untitled, and a companion piece, signed and dedicated TO V+D/ FROM P&G"
* Steve Galloway "Study for Mr. Ramon"
* Ed Ruscha "Holy Bible"
* Allan Ginsburg "Signed, dedicated, dated and inscribed 'For Dennis & Victoria Hopper'"
* Cuzco School, 17th Century "the Madonna and Child with Saint Francis and Saint Dominic"
As RadarOnline.com first reported, Victoria won an injunction earlier this year to stop a January 11 auction of the late actor's expansive art collection.
"The evidence shows the strong possibility of irreparable injury to Petitioner Victoria since the Trustees are threatening to sell personal, sentimental, and irreplaceable art and other personal property," those court documents read.
On January 14, 2010 Dennis filed for divorce from his wife of 14 years, but sadly passed away on May 29, 2010 from complications of prostate cancer.
The preliminary injunction will remain until the hearing to determined ownership on March 29, 2011.