Exclusive
Christian Group Stands Behind Cheerleading Coach Who Exchanged Sexual Emails With Rep. Weiner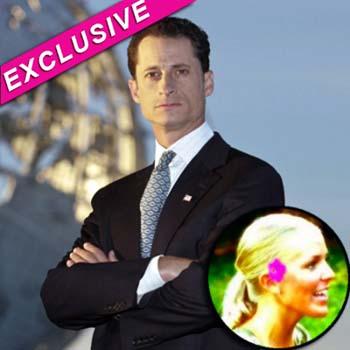 A Christian organization that employs cheerleading coach Traci Nobles is standing beside her -- at least for now – despite the fact she traded sexually explicit emails with disgraced New York Representative Anthony Weiner.
RadarOnline.com has seen the sexually charged e-mails between the attractive 34-year-old blonde and the 46-year-old married Congressman.
"i cant stop thinking about you, I'm touching myself as we speak, i want you (censored, describes a sex act), i need to see you mr. congressman, please don't disappoint me!" Traci wrote to Weiner on May 5, 2011.
Article continues below advertisement
Nobles writes in another email: "YES BABY I UNDERSTAND. BUT THIS WEEK I'VE BEEN EXTREMELY HOT FOR YOU!!!!! I WANT TO DO THINGS TO YOU I KNOW YOUR WIFE WON'T... PICS ARE NOT ENOUGH. :-("
Nobles is a cheerleading coach for The Young Women's Christian Organization (YWCO), and despite the explicit nature of the emails, the Athens, Georgia based organization is not only standing by her, but also actively promoting Nobles for their summer cheerleading class which began on Monday.
The YWCO's web site reads: "New for summer: Cheer Basics taught by former Athens Academy Cheerleading Coach, Traci Nobles. Cheerleading basics including cheers, beginning stunts & tumbling, cheer dance and spirit ideas. Begins Monday, June 6. Give me a Y, Give me a W, Give me a C, Give me an O...."
When RadarOnline.com Online.com contacted the YWCO Executive Director Kitty Meyran she confirmed that Noble was still employed by her organization: "Traci does still work for us, but as a matter of professional courtesy we do not discuss personnel issues," she said.
Article continues below advertisement
But news of the explicit nature of Noble's cyber correspondence with Weiner may shock some parents whose daughters have already enrolled to be taught by her this summer.
Ironically, the non-profit YWCO's touts itself as a highly moral organization which hopes to teach Christian and family values to those who attend.
The organization says its goals are:
Mission -The YWCO is a community organization based upon Christian values making a difference in the lives of Athens area families through teaching, nurturing and enriching activities offered over the course of a lifetime.
Purpose - The YWCO is a non-profit organization which offers educational, recreational and wellness programs to improve the quality of life for those we serve.
Objectives - The YWCO seeks to teach new skills, increase self confidence, build character, develop physical fitness, encourage fellowship and growth in the knowledge and love of God.
Before she worked for the YWCO, Nobles was a teacher at Athens Academy from 2003 to 2008, where she worked under headmaster Bob Chambers.
Article continues below advertisement
He told RadarOnline: "She was an exemplary employee and we never had any problems, but I have not had any contact with her in a couple of years now."
As RadarOnline.com has previously reported, Weiner is currently seeking treatment -- possibly for sex addiction -- at an undetermined facility amid growing calls for his resignation. His wife of less than a year -- Huma Abedin – is pregnant with the couple's first child.