Britney Spears Kicks Off Femme Fatale Tour: 'It's Opening Night B*TCH!!!!'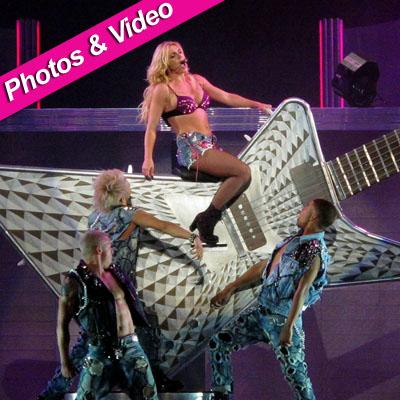 by RadarOnline.com Staff
The Southern belle pop star, a mother-of-two, began her Femme Fatale tour on Thursday in Sacramento, California tweeting, "It's Opening Night BITCH!!!!...... -Britney"
The Lucky singer, 29, wore a number of ornate outfits while her beau Jason Trawick watched from the side of the stage.
Her 22-song set, which spanned singles from Toxic to Till The World Ends, was well-received by local media.
Article continues below advertisement
"Spears performed like a pro throughout the show, hitting all her marks ... she seemed at ease," The Sacramento Bee's Carla Meyer wrote in a review of the show. "The sellout crowd -- composed mainly of young women who were kids when Spears was a teen star -- thrilled from the start to Spears' stellar pop songs."
Spears tweeted after the show: "Can't sleep. WAY too much Adrenaline right now. Sacramento was on fire tonight. You ready San Jose? Cause I am!!!!"
Rapper Nicki Minaj is Britney's opening act on the tour, which hits San Jose's HP Pavilion on Saturday.