Exclusive
Take Two! Brad Pitt's Body Double Steps On Set For Zombie Flick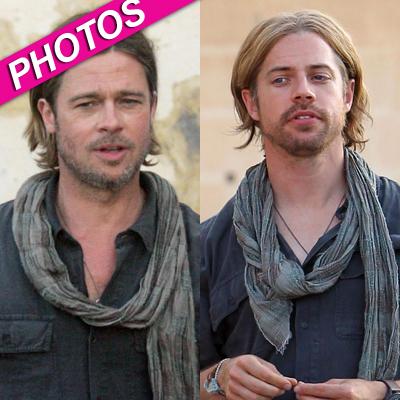 by RadarOnline.com Staff
Talk about doppleganger!
You'd think with a body like his, Brad Pitt wouldn't need a double, but RadarOnline.com has the photos to prove differently.
The hunky star, 47, has recruited the help of a stuntman on the set of his zombie film, World War Z in Malta, and the resemblance between the two is striking.
Seeing Double! Check Out Brad's Stand-In
Wearing the exact same clothes, and sporting identical hair and scruffy beards its difficult to tell the pair apart. And while it's not yet known how much of the film he will leave to his double, Pitt has certainly been enjoying his time on set.
Article continues below advertisement
The actor has relocated his family - Angelina Jolie and their six kids - to Europe while he shoots the project and the brood has been spotted taking in the local sights and have even visited Pitt on the set of the horror film.
Ed Harris, Anthony Mackie and Matthew Fox are all starring.
RELATED STORIES:
Angelina Jolie Still Has The Hots For Brad, Says He's 'A Real Man'