Tom Cruise, Katie Holmes & Brad Pitt Come Out For Studio Exec's A-List Wedding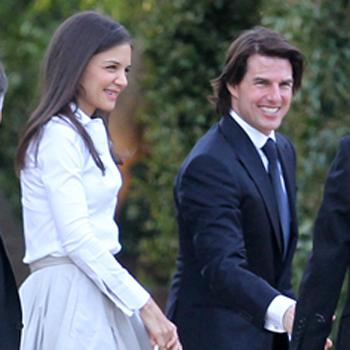 It sounds like a line-up for the Academy Awards. When Paramount Pictures Corporation Chairman and CEO Brad Grey married Saturday night, the guest list was A-List all the way.
Grey and Brad Pitt have been best friends for more than a decade, and are fondly known around Hollywood as "the Brads." Before becoming a studio exec, Grey was a TV and movie producer and personal manager, and Pitt's partner in Plan B Productions.
Article continues below advertisement
The Inglourious Basterds star attended the wedding which was held at Grey's lavish Bel Air estate, with his manager Cynthia Pett-Dante.
They met up with Tom Cruise and Katie Holmes, Jennifer Lopez and Marc Anthony, and Gwen Stefani and Gavin Rossdale.
Among his many credits, Grey is the exec producer of Real Time with Bill Maher and had the same title on The Sopranos. On the big screen, he produced The Wedding Singer, Happy Gilmore, and along with partner Pitt, The Departed and Charlie and the Chocolate Factory.
Grey's bride is Danish beauty Cassandra Huysentruyt, an advertising and marketing exec.
RELATED STORIES: