Exclusive
Bethenny Frankel 'Scheduling Time' For Baby Making!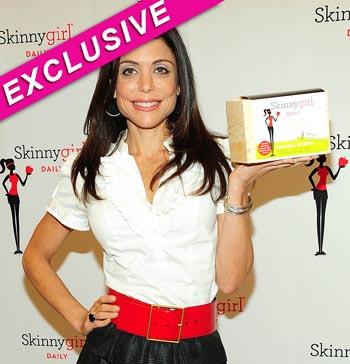 Reality TV star Bethenny Frankel is ready for baby number two.
PHOTOS: Bethenny Launches Skinny Girl Daily
But with a one-year-old daughter already at home, a mega-successful reality TV show to film, a popular cocktail line and a diet and fitness business to run it's just difficult to find the time.
RadarOnline.com caught up with the ex-Housewife at the launch of her new venture SkinnyGirl Daily at GNC at The Beverly Center on Tuesday and she shared that she's going to make sure she finds time to get pregnant again somehow -- by hook or by crook!
Article continues below advertisement
"We want to have another child, but we're going to have to start trying," a laughing Bethenny said. "It's a weird concept, but we're going to have to schedule to try! We talk about having two children, definitely. But I'm 40, like, we need to get on the bandwagon."
Bethenny shared that she and her husband, Jason Hoppy, have good reason to want to add to their family, as their first born, Bryn, is just so adorable. "She's unbelievable. She's a little baby. I call her the baby bumblebee," Bethenny said.
"She's just the sweetest little pink piece of bubble gum. She's so nice, everyone just loves her. She's just a nice, good baby. I don't know what I was doing, but I was doing a lot right. She is the perfect child."
Meanwhile, Bethenny's businesses continue to grow, and the super-fit mom told RadarOnline.com about her new dietary supplement line.
"I just launched SkinnyGirl Daily which is going to be an entire brand for accessible help for women. I feel like the whole entire category for health is overwhelming. I don't think that women understand what a cleanse is, what detoxing is, how to have better sleep, hair skin and nails.
Article continues below advertisement
"So the first product that I launched is SkinnyGirl Daily Cleanse and Restore, it's individual packets you can put in your purse, they are green lemonade so you put them in your water and they actually taste really good but not where it's sugary or neon orange.
"They're all natural and it keeps things moving. And women, when we're stressed and we're traveling, we're not sleeping, we're running after our kids, we have issues and no one except for me, who's the queen of too much information, especially store-bought cleanses are very harsh and extreme and you feel like you can't leave the house and after one week you feel like your stomach is flat because all you've done is run to the bathroom, when in fact that's not natural and it's not good.
"SkinnyGirl Daily is called that because you can take it every day, I take it once a day, twice a day and it's giving you greens. It's cleansing and putting back what you need.
"My entire platform, my entire life philosophy which started with my book Naturally Thin, which helped hundreds of thousands of women lose hundreds of thousands of pounds -- is that diets do not work, they do not work!
"Someone is yelling at you to get on a treadmill or that you're only supposed to eat steamed greens and grilled chicken it's going to overwhelm someone, it's going to make them never want to be on a diet again, it makes them do it for a week and that's it."
Article continues below advertisement