EXCLUSIVE: Camille Grammer Considering Appearing On Real Housewives Of New York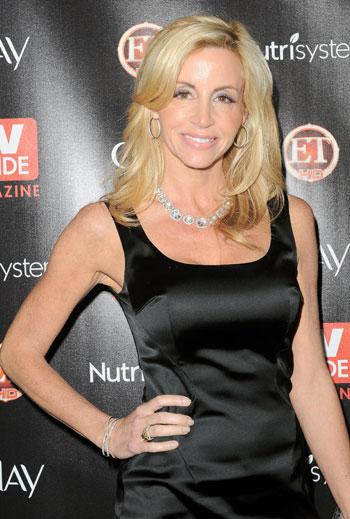 As media reports speculate that Camille Grammer might be appearing on The Real Housewives of New York to ramp up the drama for the show, RadarOnline.com has exclusively learned that the blond beauty is considering the offer but she's got bigger things on her mind right now.
A source close to the reality star says , "Camille is focusing on her children right now. She is still in the midst of finalizing her divorce to Kelsey.
Article continues below advertisement
"Camille's life is in California. She wouldn't consider uprooting her children and moving them to New York City so she could be a part of a reality show.
"She would consider making a guest appearance or several appearances on the New York franchise but it would have to be done in a way that wouldn't disrupt Camille's schedule with the children. They are her number one priority, period."
The source goes on to reveal that if Camille does decide to do a Housewives of New York appearance – she doesn't want to be brought on the show as the "villain" again.
"It bothers Camille that the producers and execs at Bravo want to bring her on the show to stir up the pot. Camille doesn't want to be known as that 'mean' girl anymore," the insider reveals.
Camille and her soon to be ex-husband Kelsey are scheduled to appear in court Monday to determine if Kelsey can legally divorce – freeing him up to marry his fiancé, Kayte Walsh later this month.
The source says, "Camille needs to deal with the developments and repercussions of the hearing on Monday, whatever those might be. Camille just doesn't understand why Kelsey is in such a rush to marry again. It's distressing to her."