Exclusive
Anthony Weiner Used Same Super Hero Reference To Teen As In Tweets To Vegas Dealer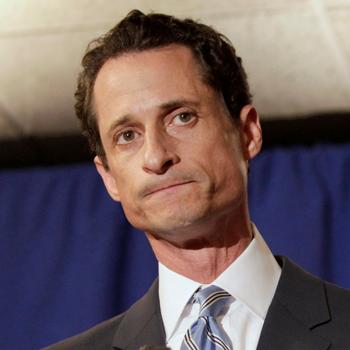 RadarOnline.com Staff Reporter
Anthony Weiner used some of the same language in his messages to a 17-year-old as he did in his sexually explicit messages to a 40-year-old Vegas blackjack dealer.
After the bombshell news broke that cops were investigating Weiner's Twitter contact with a minor -- reported here on RadarOnline.com -- the disgraced Congressman revealed he'd exchanged at least five private messages with the 17-year-old girl from Delaware.
Article continues below advertisement
"According to Congressman Weiner, his communications with this person were neither explicit nor indecent," his spokeswoman told The New York Times Friday night.
She did not provide copies of the messages.
The girl's family told the paper that the messages were "harmless" but they were concerned that Weiner had written to the high school junior via private messages.
At the end of May, Weiner sent the 17-year-old high school junior three private messages via Twitter, one of which was a response to her comment on a YouTube video of him giving a speech where she wrote "My true love."
Weiner wrote to her in a private message: "I came back strong. Large. Tights and cape."
The shocking "super hero" reference is almost verbatim what he sent to the 40-year-old blackjack dealer Lisa Weiss on September 20, 2010 when he was sexting with her.
Anthony Weiner: computer back up? no sense in you being clever if nobody can read it. good morning.
Lisa Weiss wrote: hi honey! computer's back up…what's up with you? busy saving my country from this f***in tea baggers?
Article continues below advertisement
Anthony Weiner: Yep. Cape. Tights. Looking for my sidekick.
As RadarOnline.com exclusively reported, Weiner and Weiss sent each other over 220 sexually explicit and graphic emails.
The high school student's family expressed outrage over the private messages.
"I am angry," a family member told The Times. "This is surreal and unbelievable. It is absolutely crazy. We are just regular people who go to baseball games and basketball games, as ordinary and plain as can be."