Exclusive
Weiner & Wife Head To Supermarket Following Resignation Speech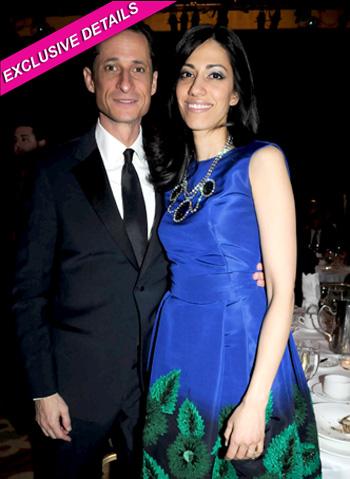 RadarOnline.com Staff Reporter
Now that former Rep. Anthony Weiner has all the time in the world on his hands, what's a man to do? Go grocery shopping!
RadarOnline.com has exclusively learned that after resigning during a press conference in New York Thursday afternoon, he and his pregnant wife, Huma Abedin, went grocery shopping.
"I saw Anthony and Huma together this evening at a King Kullen grocery store after he'd stepped down from his position," an eyewitness told RadarOnline.com.
Article continues below advertisement
"Weiner was trying to hide under a baseball cap but Huma was surprisingly smiley."
According to our source, the couple tried to remain incognito — even attempting to exit through a side door before realizing they'd trip the alarm!
"Weiner seemed unaffected by all the drama in his life, singing along to the 50's love songs that were playing on the store's radio," the source told RadarOnline.com.
"I don't think the cashier recognized him but made a comment to me that she was 'creeped out' by him."