VIDEO: Katherine Jackson: Michael Being A Molester Is 'The Biggest Lie Ever Been Told'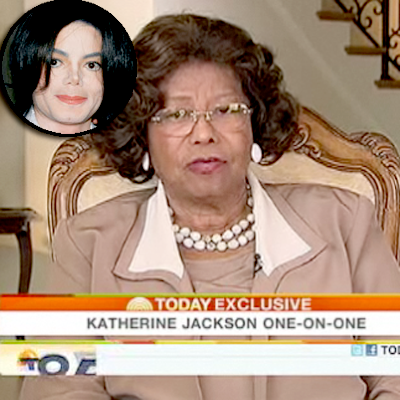 Katherine Jackson wants to clear up some misconceptions.
"As far as Michael being a child molester... that's the biggest lie ever been told," she told the Today Show on Wednesday of her late son.
Katherine, 81, said she was vindicated after an article came out after the King of Pop's June 2009 death, in which one of his accusers in 1993 admitted he'd lied.
"He confessed that Michael never touched him, and it was a big lie, and his father just wanted to be rich. And he said, 'I'm so sorry I didn't get to tell Michael this before he died.'"
Article continues below advertisement
As for the settlement the late King of Pop made with his then-accuser, Katherine said that "his lawyers told him he should just pay the money.
"They thought that just paying the money and shutting the people up would be the right thing to do," she said. "As soon as I heard he'd settled, I called him and said, 'Why did you do that? It makes you look guilty.' He said, 'I didn't want to do it either mother, I wanted to fight it because I knew it wasn't the truth.'"