SHOCKING VIDEO & PHOTOS: Monster Twister Destroys City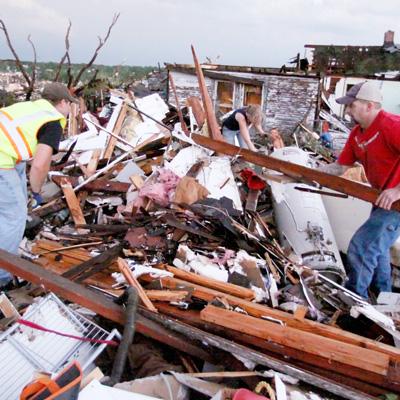 A monster tornado destroyed the city of Joplin, Missouri late Sunday, killing at least 89 persons; the death toll is expected to rise Monday as rescue workers frantically search for more victims.
Missouri Gov. Jay Nixon declared a state of emergency Sunday night and activated the Missouri National Guard in response to the widespread destruction.
St. John's Regional Medical Center in Joplin, Mo., was fully evacuated after it took a direct hit from the tornado. Every window in the facility was shattered and the roof was ripped off. Meanwhile, seven people have been reported dead at a nursing home, according to police.
Article continues below advertisement
Authorities estimate 25 to 30 percent of Joplin has been damaged by the tornado, with highly populated areas having been hit by the storm.
The tornado was reported to be a mile wide, with winds of nearly 200 mph that ravaged the area.
Joplin -- a city of about 50,000 people -- is located 160 miles south of Kansas City.
In total, 70 tornadoes were produced by the storm system since Friday, including at least 47 tornadoes Sunday. Tornadoes were reported in seven states from the Canadian border to Oklahoma. Warnings and watches were posted from Texas to Michigan.
Tiny Town Of Phil Campbell, Alabama Flattened By Tornado
President Obama released a statement on the emergency late Sunday night, saying, "Michelle and I send our deepest condolences to the families of all those who lost their lives in the tornadoes and severe weather that struck Joplin, Missouri as well as communities across the Midwest today. We commend the heroic efforts by those who have responded and who are working to help their friends and neighbors at this very difficult time," Obama said in the statement.
"At my direction, FEMA is working with the affected areas' state and local officials to support response and recovery efforts, and the federal government stands ready to help our fellow Americans as needed," he added.