Tiny Town Of Phil Campbell, Alabama Flattened By Tornado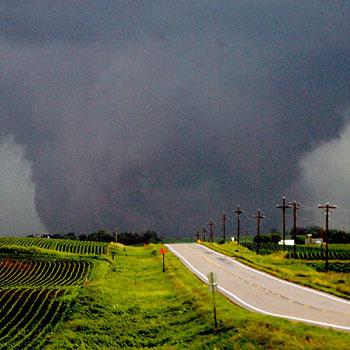 RadarOnline.com Staff Reporter
The tiny town of Phil Campbell, Alabama has been devastated after a killer tornado literally flattened the rural community.
At least 12 people have been killed in the town which has a population of only 1,091. So far, an estimated 247 people have died after over 160 tornadoes -- some up to a mile wide -- ripped through Alabama, Mississippi, Tennessee, Georgia, Virginia and Kentucky.
Article continues below advertisement
But the saddest story emerging could be that of tiny Phil Campbell. A huge tornado cut through the town at around 3pm destroying everything in its path on Wednesday.
Tragically, as residents sifted through the debris today one man riding a four wheeler was heard saying: "My family is all dead!"
Another man was heard screaming into his cell phone: "Everywhere you go, the town is torn up – it is all gone."
At least 12 people in Phil Campbell were either killed or unaccounted for as of 11 p.m., emergency officials revealed.
Among those who died was an 8-year-old student at the elementary school, according to high school Principal Cindy Davis. Another emergency worker said a woman, her mother and a cousin were all killed together.
Tornadoes killed at least 72 people in the Southeast region Wednesday, including 58 in Alabama. Tuscaloosa officials reported 15 people being killed.
Article continues below advertisement
Emergency workers fear those totals will rise today as search-and-rescue efforts continue.
Phil Campbell residents visibly panicked as two more storm systems arrived while workers cleared debris and searched for survivors.
Phil Campbell Police Chief Merrell Potter said: "This is one of the most devastating things this area has ever faced - you're never prepared for anything of this magnitude."
Joe McGalliard, who lives at a local housing authority complex, said he was sore from being pelted by 2-by-4 boards. He considers himself fortunate. "I saw a 12-foot-long, 2-by-4 sticking plum through the side of my building," he said.
He said a local television station then reported that a large tornado was coming from Hackleburg and heading toward Phil Campbell but the warning came just as the tornado hit the town.
Within a minute, things calmed and McGalliard went to his bedroom to look for his pet Dachshund dog, Oscar.
"I went in there to see if it took him with it, and saw bricks moving around on the bed, and Oscar was under them. I got him and left. The whole thing didn't last a second, it seemed."