VIDEO: President Barack Obama Criticized After Common Appears At The White House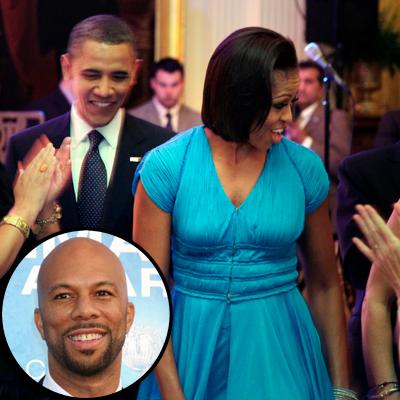 Chicago-based rapper/actor Common attended the Evening of Poetry event at The White House on Wednesday night, and several big-name Republicans, including Sarah Palin and ex-Bush staffer Karl Rove, are up in arms.
The invite extended to the artist, who's real name is Lonnie Rashid Lynn, Jr. raised some eyebrows in light of his past lyrics condemning authority figures such as police and former President George W. Bush.
Article continues below advertisement
For example, in a 2007 passage, the rapper (who dated Serena Williams last year) urges his fan base to "Burn a Bush."
"With that happening, why they messing with Saddam? Burn a Bush cos' for peace he no push no button, killing over oil and grease, no weapons of destruction, how can we follow a leader, when this a corrupt one?"
In a story airing on Good Morning America on Thursday, Former Alaska Governor Sarah Palin said that President Barack Obama's decision to invite Common was "lacking of class and decency.
"They're just inviting someone like me or someone else to ask, 'C'mon Barack Obama who are you palling around with now?'"
She wasn't the only one: Karl Rove, President Bush's former deputy chief of staff, called Common a "thug" and "misogynist" in an appearance on The Sean Hannity Show Tuesday.
"That they are inviting him to poetry night at the White House speaks volumes about President Obama and this White House staff. Who is asleep at the vetting desk?"
In response to the furor, Common said on his Facebook page: "Politics is politics and everyone is entitled to their own opinion, I respect that ... Peace yall!"
Watch the video on RadarOnline.com
Less controversial guests at the event included Steve Martin, Aimee Mann and Jill Scott.