PHOTOS: Hot Bodies, Hot Rods! The 10 Sexiest Stars Of Car Movies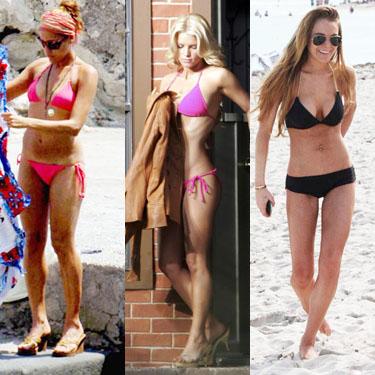 RadarOnline.com Style & Beauty Editor
People raced to the box office last weekend to take in the latest installment of the Fast & Furious franchise, Fast Five, proving that hot bodies and hot rods make for a powerful box office combination.
RadarOnline.com has photos of the ten sexiest stars of car movies, stripped down and showing off their hot bods in the skimpiest of bikinis.
Angelina Jolie enjoyed life in the fast lane in the blockbuster film Gone in 60 Seconds, while Jessica Simpson had hearts racing when she stepped onto the screen in daisy dukes in Dukes of Hazzard.
Article continues below advertisement
Nicole Kidman scored more than box office success when she starred alongside Tom Cruise, she landed herself a leading man!
And while Michelle Rodriguez and Jordana Brewster have been sexy staples in the Fast & Furious flicks, we almost forgot that Eva Mendes and Devon Aoki sexed up the screen in 2 Fast 2 Furious.
What other hot stars have raced to the finish line in car movies? Click here to find out.
MORE ON:
Sexiest Bodies Hollywood