PHOTOS: Bikinis! Diet Divas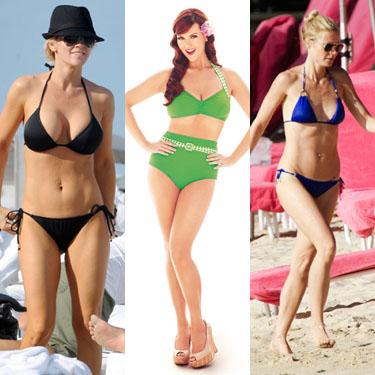 RadarOnline.com Style & Beauty Editor
No pain, no gain!
These sexy stars don't get their smoking hot bikini bods by sitting around eating Cheetos. From Gwyneth Paltow to Sara Rue, RadarOnline.com has photos of Hollywood's top diet divas showing off their banging bikini bods as well as details on their slim-down secrets in this special photo feature.
Sara Rue recently underwent one of the most dramatic bikini body transformations of all times with the help of Jenny Craig. The television star, who struggled with her weight her entire life, turned to the celebrity endorsed weight loss program to get a bombshell bridal bod.
Article continues below advertisement
SHAPE PHOTOS: Celebrity Before And After! Did These Stars Get Too Thin?
Gwyneth Paltrow's figure has always looked flawless, but when the blonde hottie recently stripped down into a skimpy bikini while on vacation revealing her best bod ever, she made quite a splash! The Academy Award winner is all about detoxing, but while other stars like Beyonce and Naomi Campbell swear by the Master Cleanse, Gwyn opts for the milder 'seven-day elimination' diet.
Kate Hudson keeps it simple when she wants to shed weight. The Something Borrowed babe once lost 20 lbs by giving up booze!
We all know how former Friend Jennifer Aniston keeps her figure fat-free and fabulous! The Hollywood hard-body has been a longtime follower of The Zone.
Alicia Keys and Katherine Heigl both swear by their celebrity trainer Harley Pasternak's 5 Factor Diet, while Jaime Pressley has dropped weight by following the cabbage soup diet.