Exclusive
EXCLUSIVE: How Kate Beckinsale Is Getting Her Body 3D Ready For Underworld: New Dawn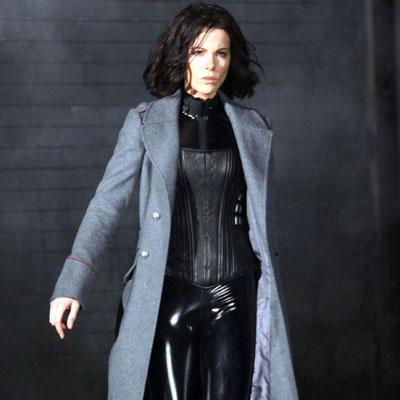 37-year-old Kate Beckinsale has one of the most banging bikini bods in Hollywood, but even the bombshell Brit had some work to do to prepare for the sexy costumes she will be rocking in Underworld: New Dawn.
RadarOnline.com spoke exclusively to Ramona Braganza, who is on the Vancouver set of the fourth installment of the film franchise getting Kate toned and tight for her first 3D movie ever, and the personal trainer to-the-stars dished on all her get fit secrets!
Article continues below advertisement
"Kate is focusing on long, lean muscles for Underworld: New Dawn," Braganza, who also trains Jessica Alba, Halle Berry and Amanda Seyfried, told RadarOnline.com.
"She is toning up as her outfit on Underworld requires her to keep in shape."
Using Ramona's 321 Training Method -- a combination of three parts cardio (usually 30 minutes on the treadmill), two parts circuit training and one part core -- and also incorporating some yoga moves, the actress and her trainer usually hit the gym between 3 and 5pm when she has an evening call time.
"Kate has a very strong core from her yoga practice and she prefers to do kicks and single leg exercises over any jumping one or squats," Braganza reveals about the star's favorite moves.
But working out is only half the battle!
"It's all about eating the right foods, in the right amounts at the right times if you want to build muscle and burn fat," Ramona explains.
Kate's Zone diet consists of lean meats, vegetables, complex carbs and healthy fats, which keep her fueled for workouts and long days on the set.
"Kate knows that it is necessary to keep exercise in her life," Braganza adds.
"Yoga and hiking are two of her favorite ways to work up a sweat when she's back home in Los Angeles."
RELATED STORIES: