PHOTOS: The 10 Sexiest New Singles -- Stripped Down!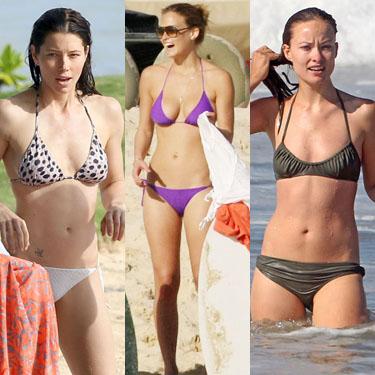 RadarOnline.com Style & Beauty Editor
These smokin' hot bikini babes are not only newly single are ready to mingle, but they also have the hottest bodies on the beach.
RadarOnline.com has photos of the ten hottest Hollywood singles, stripped down and baring their bods in the skimpiest swimsuits!
Bar Refaeli recently flaunted her sexy single status aboard uber-luxe yachts at the Cannes Film Festival, but her ex-boyfriend Leonardo DiCpario didn't seem to notice. The bigscreen stud was too busy entertaining another sexy single, Gossip Girl Blake Lively!
Article continues below advertisement
Jessica Biel split from Justin Timberlake earlier this year, and although the blockbuster babe has yet to be spotted with another suitor, her soulful ex has been rumored to be making music with soon-to-be divorcee Olivia Wilde.
The match between Hayden Panettiere and her boxing beau Wvladimir Klitschko was recently forfeited, and the pint-sized star has already been spotted in the arms of another, nameless stud.