VIDEO: Government Releases Amazing Osama Bin Laden Home Movies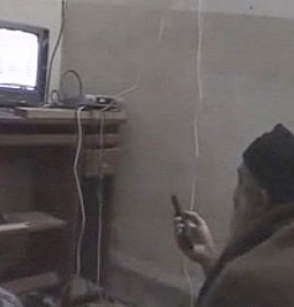 Osama Bin Laden was one vain terrorist.
In fascinating home movies released by the U.S. Defense Department Saturday, bin Laden is seen watching himself on TV, and rehearsing his televised diatribes.
The five released tapes were found in bin Laden's compound after a crack Navy Seal team invaded the terrorist's compound in Pakistan May 1, killing him with a shot to the head.
Three of the videos show bin Laden rehearsing for a televised rant against the U.S. Quite interesting is that he'd dyed his gray beard a dark brown before he sat down in front of the cameras.
Article continues below advertisement