VIDEO: Lady Gaga Jokes She's 'Batman' & Eats Dave's Notes On Letterman!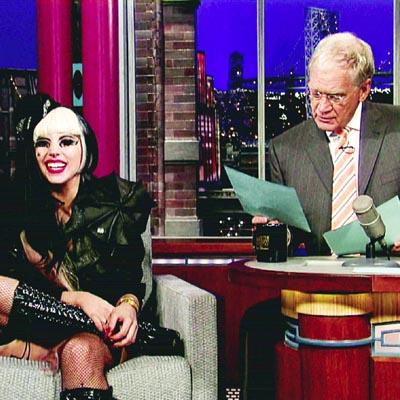 Lady Gaga made a memorable first appearance on The Late Show with David Letterman Monday, as the Indiana funnyman hailed her as "just about the biggest star on the planet" in his introduction.
Gaga, 25, was on to promote her new album Born This Way, which hit stores Monday.
"I'm so happy and I'm so grateful and I've been working on this music for so long," she said. "I feel really blessed -- I sold 24 million the first two records, thanks to you guys!"
Article continues below advertisement
Watch the video on RadarOnline.com
The Paparazzi singer, known for her outrageous get-ups, didn't disappoint in that department Monday, wearing a bat mask, black leather motorcycle jacket, high-heeled boots, a leather garter and a blonde-black wig.
"I'm Batman," she joked.
The New York native said growing up in the cultured city, she had show biz dreams from a very young age and that she was very grateful for the opportunity to be sitting on Letterman's couch.
She told Letterman that she worked as a waitress before she got her big break in music.
"I used to flirt with everybody so I would get tips, but it wouldn't work as well if they were on a date," she said.
Gaga said that while she graduated high school, she didn't finish college and doesn't intend to.
"In my line of work," the LoveGame singer said," I don't think that they can teach you how to ride disco sticks!"
Article continues below advertisement
VIDEO & PHOTO: The Story Behind Lady Gaga's Red Vest
Asked about the egg she arrived in at this year's Grammys, Gaga said it's a comfortable place where she can be "reborn."
She then flirted a bit with Letterman, telling him, "I wonder what would happen if I put you in an egg ... we could go together ... you could be the yolk!"
Asked if she once ate a Barbie doll's head during a concert, Gaga said, "Yes, all the time," before tearing a piece of paper off Letterman's pad -- and eating it!